"When people ask me about the business and what it means to me, it fills me with huge pride to be able to talk about our reputation among the organisations we collaborate with and the amazing team we've built. We've come very far in a short time, and that reflects the true quality that this business and its people deliver. The future is exciting and we're all looking forward to more success to come."
Neil Pemberton, Co-CEO
OUR VALUES
We want to bring the potential of technology to life for our clients, making the people, companies and organisations we work for even more successful. How do we do this?
We value expertise. We aim to deliver a level of service that far surpasses our clients' expectations, and so we employ people who are the best at what they do. Our people are driven by their curiosity and passion to develop industry-leading knowledge and experience.
We value integrity. Our clients trust us to say and do what's right, rather than what's easiest: we're not afraid of challenges. We pay close attention to the quality of our client experience, and through genuine partnership and see these as an opportunity to create something better.
We value positivity. We are positive that we can deliver on the promise of digital transformation. We believe our professional positivity helps make a meaningful difference for our clients.
PARTNERS IN POSITIVITY
…it's not just our strapline, it underpins our way of working and our attitude.
Whatever the problem or opportunity, we aim to respond in a way that it positive, innovative, and human. We strive to ensure our clients feel confident in and energised by the work we deliver, and work positively even through the most challenging situations. We want our clients to feel enabled to take positive steps with our support, and benefit from the positive outcomes that we can provide.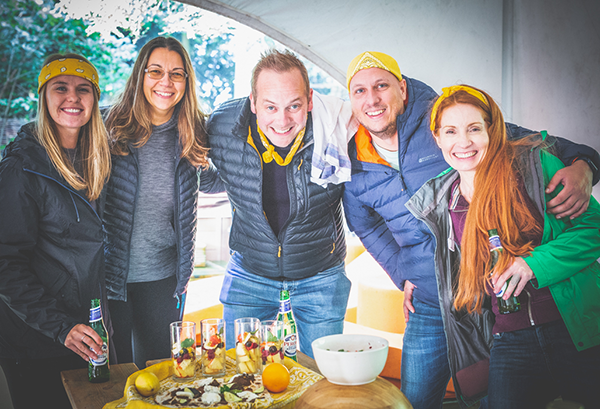 CELEBRATING OUR ACHIEVEMENTS
We hold memorable quarterly social events, spanning the day and evening into overnight stays, to celebrate our successes. From spa activities and sustainability workshops to farm experiences and drumming workshops, we make sure our events are varied, enjoyable, and inclusive for all.
Individual teams also host regular team lunches and social engagements, and we always take time to celebrate weekly good news announcements to celebrate everyone's accomplishments.
YOUR GROWTH JOURNEY WITH US
Whether you're starting out on your professional journey or looking for advancement, we'll support you every step of the way. With a track record for internal mobility, we have the tools and commitment to nurture your talent.
We offer a range of resources, including support for Cisco qualifications, management development programmes, insightful Lunch and Learns, and courses on performance management. As a Cisco Gold Partner, we have an extensive library of training materials at our disposal and our subscription to the INE training portal also equips our team with supplementary IT training resources.
EMPLOYEE PERKS AT A GLANCE
Work-Life Balance and Social Engagements
Hybrid and remote work flexibility
Adaptable work schedules
Sabbatical opportunities
Special leave for your birthday
Regular in-person gatherings

Financial Incentives
Rewards for employee referrals
Eco-friendly cycle-to-work initiative
Electric vehicle programme
Health and Wellness Provisions
Premium private health coverage
Comprehensive sick pay benefits
Generous maternity and paternity leaves
Life assurance
Health and fitness challenges
Mental health support and awareness programmes

Continuous Learning Opportunities
External management development sessions
Sponsored training and certification programmes
What's Great About ITGL? Hear from the team…
"Everyone at ITGL is passionate about their jobs and we all collaborate well together which gets things done and is great for our clients."
"Great supportive culture that offers flexibility to take care of emergencies as they arise. It feels like people have your back."
"Since joining the company, every single person I have encountered has been so helpful in getting up to speed with things, making being the newbie an easy experience!"
"People are taken care of by the organisation. Managers care about their teams. You work with people across the organisation and everyone is supportive."
"Managers really care about employee wellbeing and growth. There are a lot of opportunities to gain new skills and qualifications, and it feels like this is encouraged by the wider company. Everyone is also really supportive if you need to ask for help with anything."
EMPLOYEE SATISFACTION INSIGHTS
In our recent survey from June 2023, we achieved an impressive employee Net Promoter score of +66. This score highlights the exceptional satisfaction levels across all our teams. Over half of all staff pointed to people, culture, and positive work environment as their top reasons for enjoying working at ITGL. This was closely followed by the appreciation for work-life balance and freedom at work.
GET IN TOUCH
Get in touch if you are interested in finding out more about working at ITGL.